Marienthal
This then is the house of the prophet
After Froebel had been declared persona non grata in the Principality of Schwarzburg-Rudolstadt due to 'inciting ideas and deeds' Duke Bernhard II of Sachsen-Meiningen offered him the right to residency within his duchy, and also his Marienthal Castle as a residence. It is there that Froebel crowned his Life's work with the establishment of the very first training school for kindergarten teachers.
When he first saw Marienthal, Froebel remarked, "This would be a beautiful place for our institution Marienthal, the vale of the Marys, whom we wish to bring up as the mothers of humanity, as the first Mary brought up the Saviour of the World." Marienthal was one of the first vocational training institutes for women as it was Froebel's idea that women be trained to become the educators of the human race.
Surrounded by old green trees, Marienthal was a pleasant building of two stories with a front of eleven windows. On one side were very beautiful old lindens, which in flowering time spread their fragrance far and wide.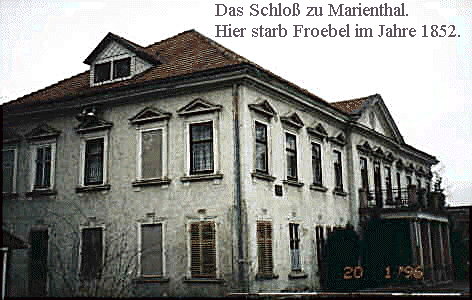 In 1850, Froebel began training Kindergarten teachers at Marienthal, a hunting lodge of the Duke of Meiningen, near Bad Liebenstein in Thuringia. It soon became a custom among many of the frequenters of the baths at Bad Liebenstein to walk out to Marienthal to visit the institution. If Froebel was engaged in teaching, he took no notice of visitors; afterwards he would enter into real discussion with such as cared to do so. The effect produced by the evident enjoyment of the children, by their intelligence and docility, and by their intense fondness for Froebel, converted many to the Kindergarten who could not have understood the views of which it was the exponent.
Froebel died at Marienthal on June 21, 1852.
background information:
Marienthal was built in 1803-1807 by Mr. von Fischern, who was the Forester of the Meiningen Duchy. It was used as a residence and then in 1849/50 a training institute for Kindergarten Teachers by Froebel. It was used as a private school till 1873, and then through purchase and use as a house for Wilhelm Heller. The Wilhelm Heller Family produced knives and other cutlery and from 1892 ball bearings. Later it was a factory called Kugel und Rollenfabrik Schweina GmbH and a Froebel Historical Site.
Marienthal castle and park were designated as a Historical Monument Ensemble - for its architecture integrity, its artistic, scientific and societal as well as regionally unique qualities - on the Basis of the Law for Historical Preservation of the former DDR.
Marienthal today stands empty, unused and not in good condition at Altensteiner Strasse 128, 36448 Schweina