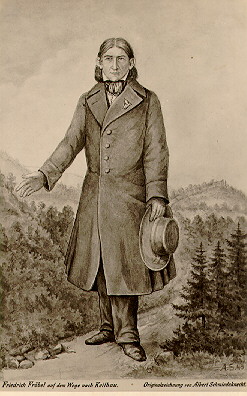 Friedrich Froebel invented the concept and the name 'kindergarten'. He was born in a village near Weimar in what is now central Germany in 1782, and grew up in the political and intellectual turbulence of the Napoleonic era. He read widely in contemporary philosophy and, much influenced by the Swiss educators Rousseau and Pestalozzi , he came to believe in the importance of the pre-school period as laying the foundation for not only a sound education for the individual, but also for the health of society at large.
The concept of 'unity' was the driving force of his philosophy and educational practice. His belief in the unity of mankind and nature, and of the inanimate world and living things, led to his conviction of the crucial importance of a harmonious relationship among home, school and society. The kindergarten was to be an environment in which children could reach their full creative potential under the protective and interactive guidance of an adult. In his view, the concept of the mother was the crucial link between child and home, and he established training courses for female 'kindergartners', at a time when teaching was an all-male profession.
He died in 1852, one year after the Prussian government closed all kindergartens , as it was fearful of their potential for fomenting politicial revolution. This ban had the happy unforeseen effect of spreading the kindergarten 'movement' to all parts of the world. In Britain, kindergartens were established in the 1850s, and the Froebel Society was formally founded in 1874, becoming in 1938 the National Froebel Foundation. The Incorporated Froebel Educational Institute, which owns Froebel College, has its own archive, located near to the college.
Reminiscences of Froebel (Erinnerungen an Fröbel) by Baroness Bertha Marie von Marenholtz-Bülow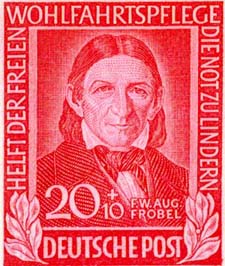 ---
---
Copyright © 1998-1999 Froebel Web All Rights Reserved. froebelweb@yahoo.com
http://FroebelWeb.tripod.com/images/froebel.html