Anastasia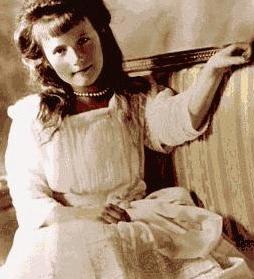 Anastasia has been immortalised in literature and drama. This popular image of a fairy tale princess conceals the reality of the playful, willful teenage, who was known to her family as the clown and loved to take photographs.
The cover of the handsomely conceived volume features a photograph of Anastasia, the last czar's youngest daughter, smiling slightly at her audience. Despite Anastasia's pearls and lace dress, readers will have no trouble identifying with her. Inside, they will find a design made to mimic a family photo album. The czar and his family were great photographers, and they spent many hours pasting pictures in their albums. Anastasia and her sisters added their own decorations of plants and flowers, which also appear here. The book moves in chronological order: there is Anastasia as a baby, then with her three older sisters and younger brother; as the clown of the family; on holiday; and later as a prisoner of the revolutionaries. Inset are color photos of imperial relics that have survived to become museum pieces: a doll, a gorgeous Fabergeegg, a toy cannon. The text, which features snippets of the writings of Anastasia and other Romanovs, sets Anastasia within her historical milieu and offers insight into both her character and her life. Young people who do not know the story of the Russian royal family may be shocked by its end; the book does not sensationalize the deaths, but the impact is powerful. The flap copy gives only a tantalizing bit of information about the author finding the imperial family's albums at the State Archives in Moscow and deciding that Anastasia's writings and photos would make a compelling book.
The execution of Tsar Nicholas II of Russia and his family in 1918 has long been shrouded in mystery: ``For more than eighty years, the diaries, letters, and photo albums of the tsar's family were kept a secret.'' Now they are displayed in the State Archives in Moscow. Much of Brewster's book reproduces pictures from the photo album made by Anastasia, the youngest of the tsar's four daughters, and quotes many of her letters to her father and friends. It reveals not only Anastasia's daily life with her family but her wonderful sense of humor. The four daughters--Marie, Tatiana, Olga, and Anastasia--are shown posed (usually dressed identically) in lovely photographs; or riding bikes, swimming, sailing, walking in the snow, studying, painting, knitting. Many of the black-and-white photos were hand-colored by Anastasia. A particularly impish photo of the girls with their hats in their hands reveals their baldness after a bout of the measles. Although an epilogue discussing an impostor's claiming to be Anastasia detracts from the focus, this is a story of a close, happy family that does not foretell their violent end. (full-color and b&w photos, glossary, bibliography) (Nonfiction. 7+) -- Copyright ©1996, Kirkus Associates, LP. All rights reserved. Midwest Book Review Published for the first time are tsar's daughter Anastasia's collection of photos, drawings and letters which reveal her life in imperial Russia. Kids from advanced elementary levels through middle school will appreciate this album, which tells of her life and culture using vivid visual presentations. From Horn Book Photos, letters, diary entries, and a well-researched narrative re-create the life of Russia's imperial family during the final years of their rule. The book spans the tragically brief life of Grand Duchess Anastasia Romanov, the youngest daughter of Tsar Nicholas II, from her birth in 1901 to the execution of her entire family in 1918. Many of Anastasia's own black-and-white photographs, often hand-colored, along with other family photos, depict a close-knit family at home and at play, while contemporary color photos display the magnificent Winter Palace or imperial treasures such as a bejeweled Faberg' egg. Anastasia and her three older sisters are shown romping at the seashore, struggling with their studies, and gathered comfortably in their mother's boudoir. Their cozy family life is only marred by their concern for their younger brother Alexei, a hemophiliac. The author sets the imperial family's insulated life against a background of growing agitation throughout the impoverished citizenry, resulting in the Revolution of 1917 and the imprisonment and ultimate execution of the Romanovs. The epilogue discusses the mysterious Anna Anderson's claim to be the escaped Anastasia and the recent posthumous tests that disproved her story. Designed like a keepsake album, the book includes decorative drawings and a reproduction of the endpapers from Anastasia's own album. The excerpts from letters and diaries reveal Anastasia's impish sense of humor; a photo of the four grand duchesses cheerfully displaying their shaved heads after recovering from measles demonstrates the good spirits they retained even in hard times. These materials, only recently recovered from Soviet archives, compose a sympathetic picture of the Romanov family, affording an intimate glimpse of the last days of imperial Russia. Ingram An award-winning author uses Anastasia's own photos, watercolors, letters, and diaries, long hidden in Russian archives, to reveal an engaging portrait of Russia's last princess, her family, and their difficult exile in Siberia after the Russian revolution.
Royal Russia
This unique compilation of 140 photos includes photographs, both formal and informal, taken from the personal album of the Tsar's daughter, Grand Duchess Maria, and from the Tsarina Alexandra's own commemorative album.